Since the beginning of Covid-19 pandemic, nightclubs remained closed, and the right to demonstrate was restricted. Within this context, RÆV REHEARSAL emerged as a response against the imposed isolationism. With a bluetooth speakers system, floating inflatable sculptures and a minimalist techno beat, ravers moved through the city like a radiating, dancing swarm. Then, the streets became the club; the stairs, roundabouts and benches, temporary stages.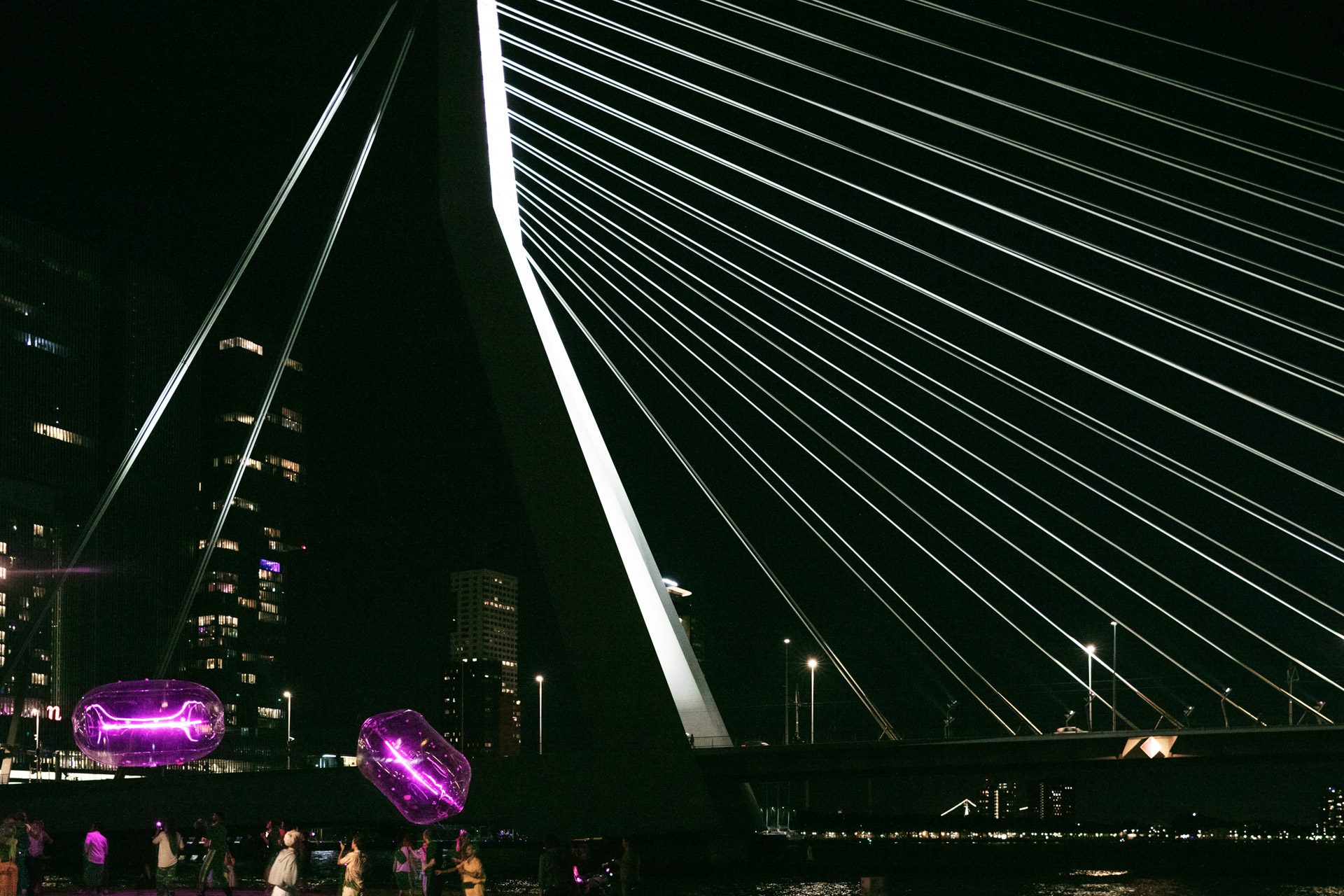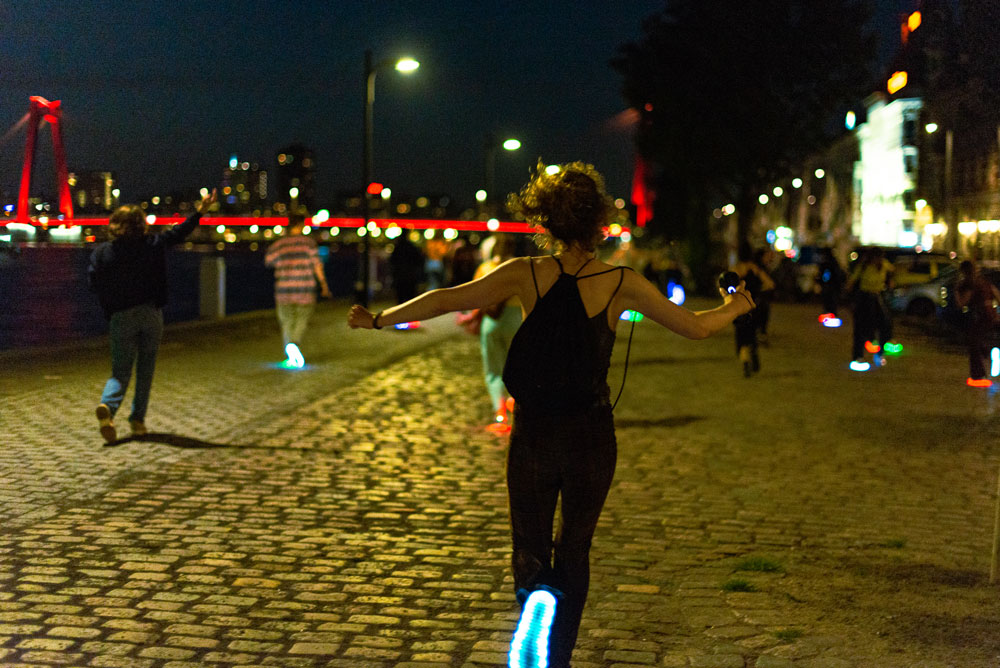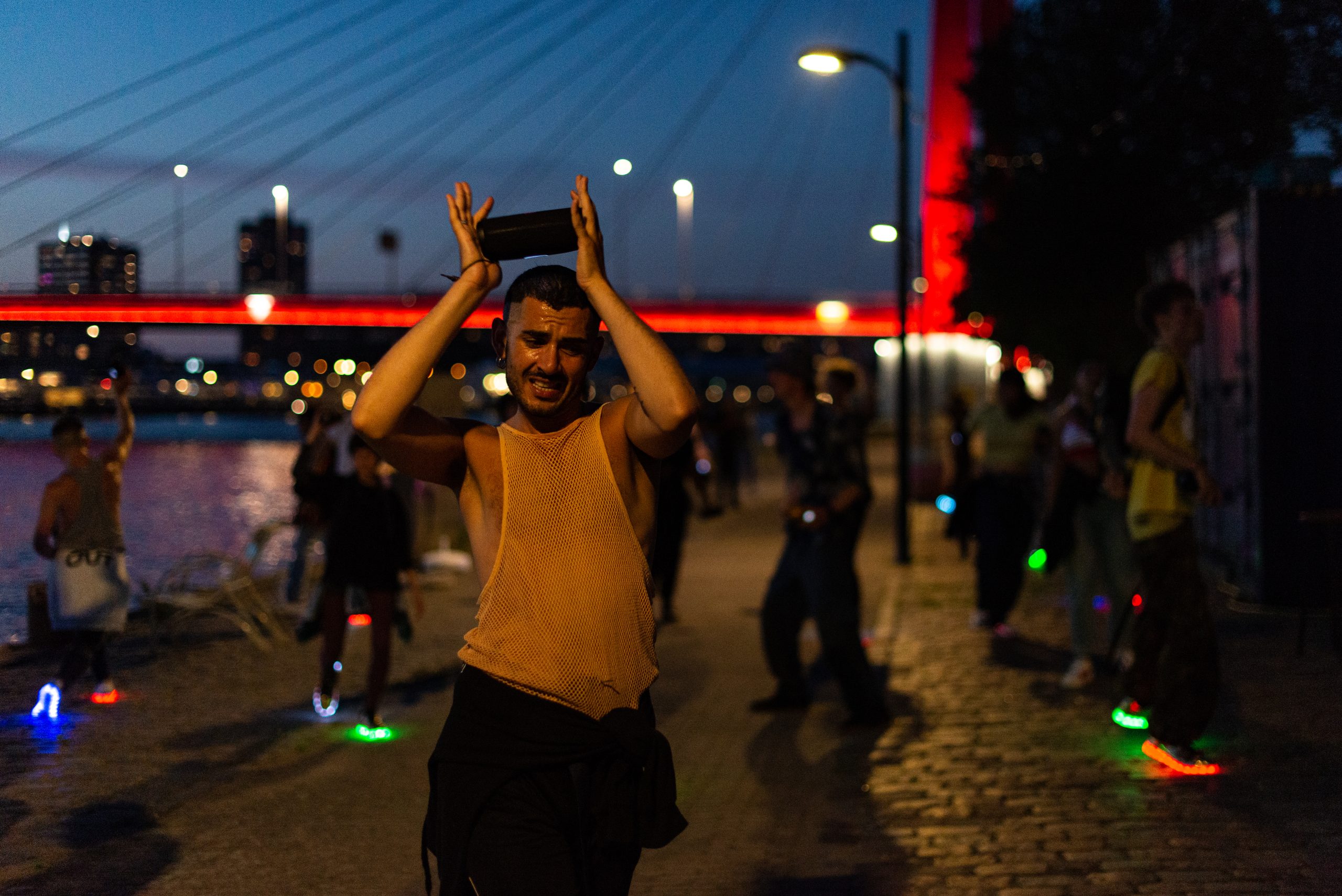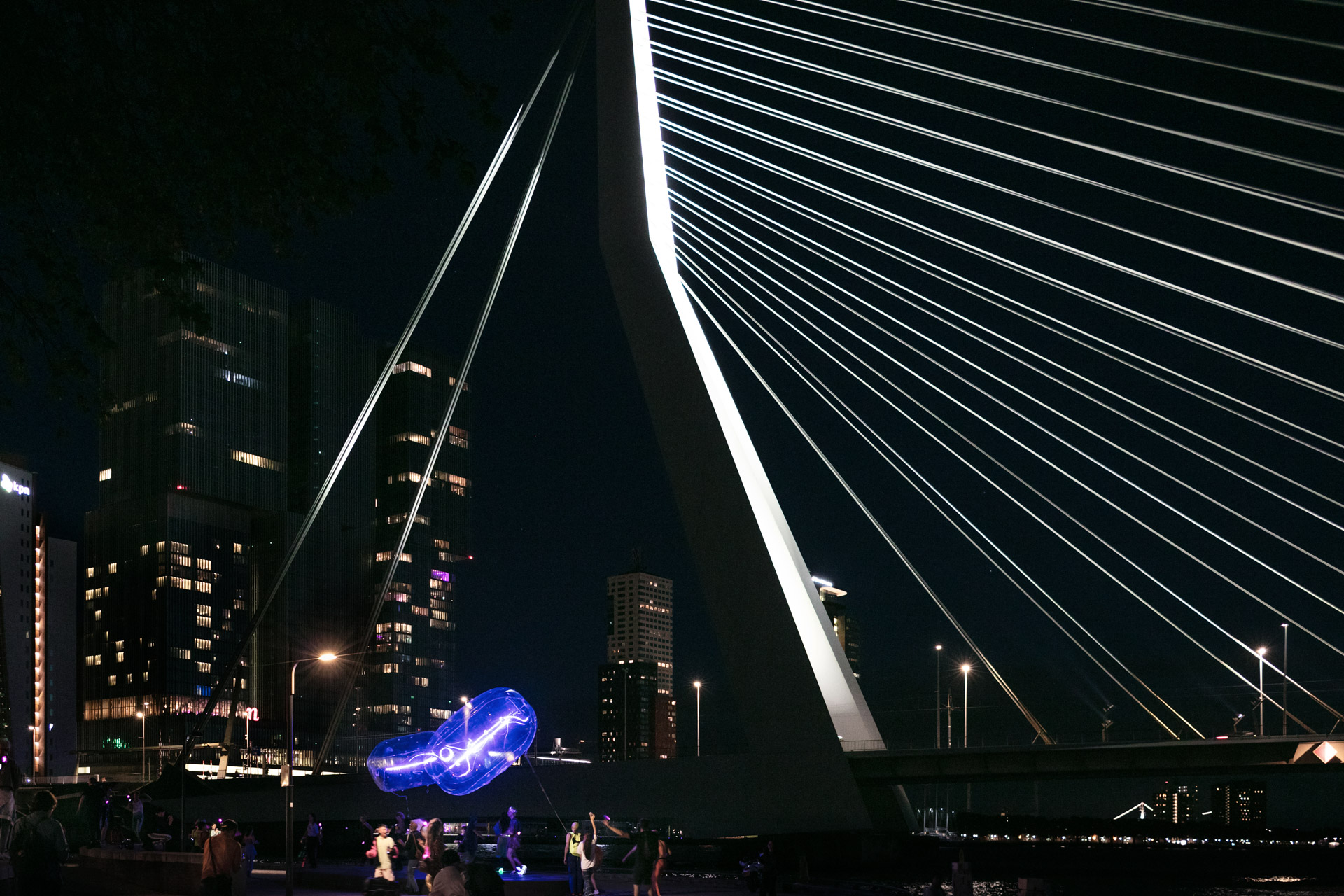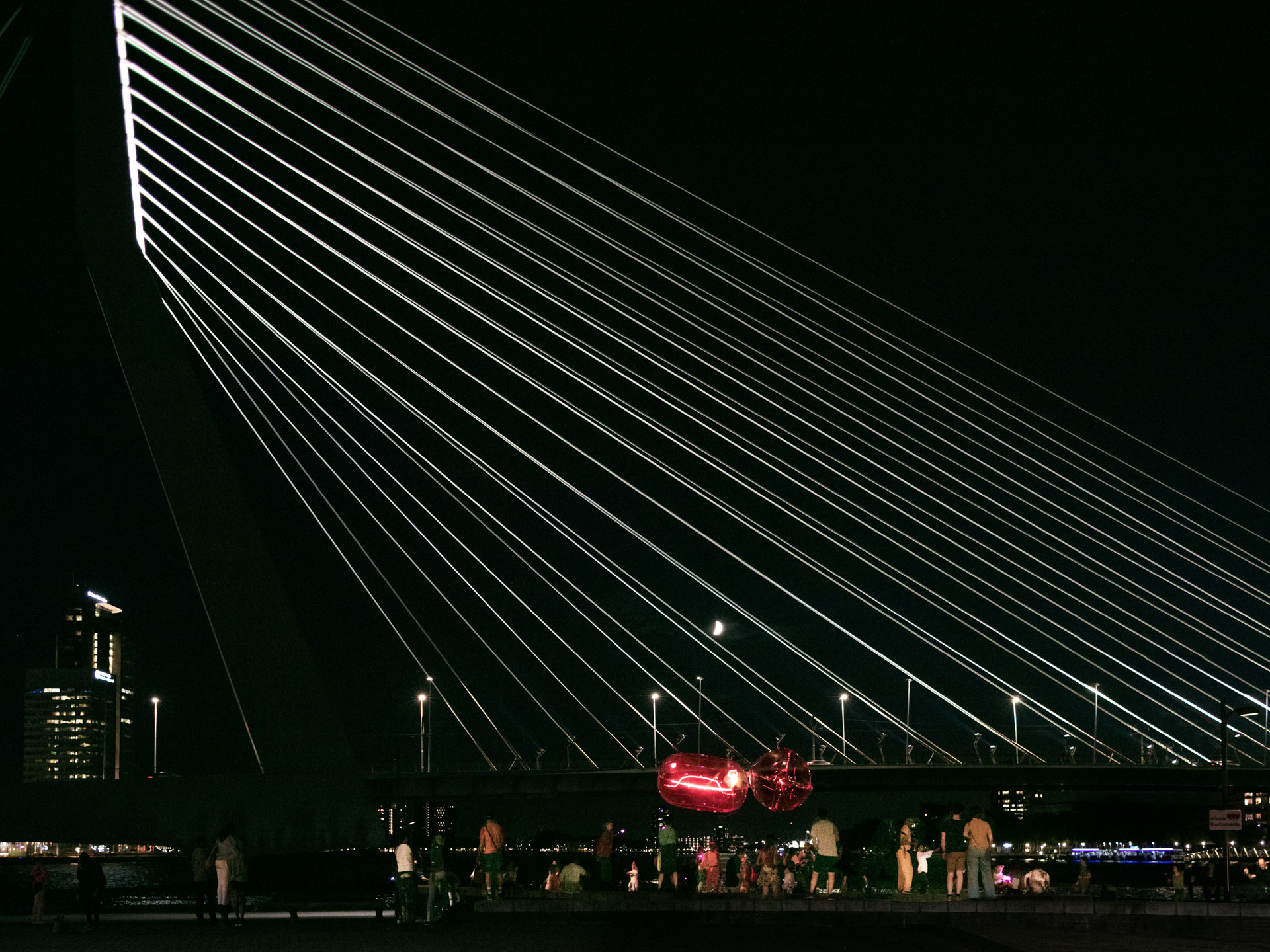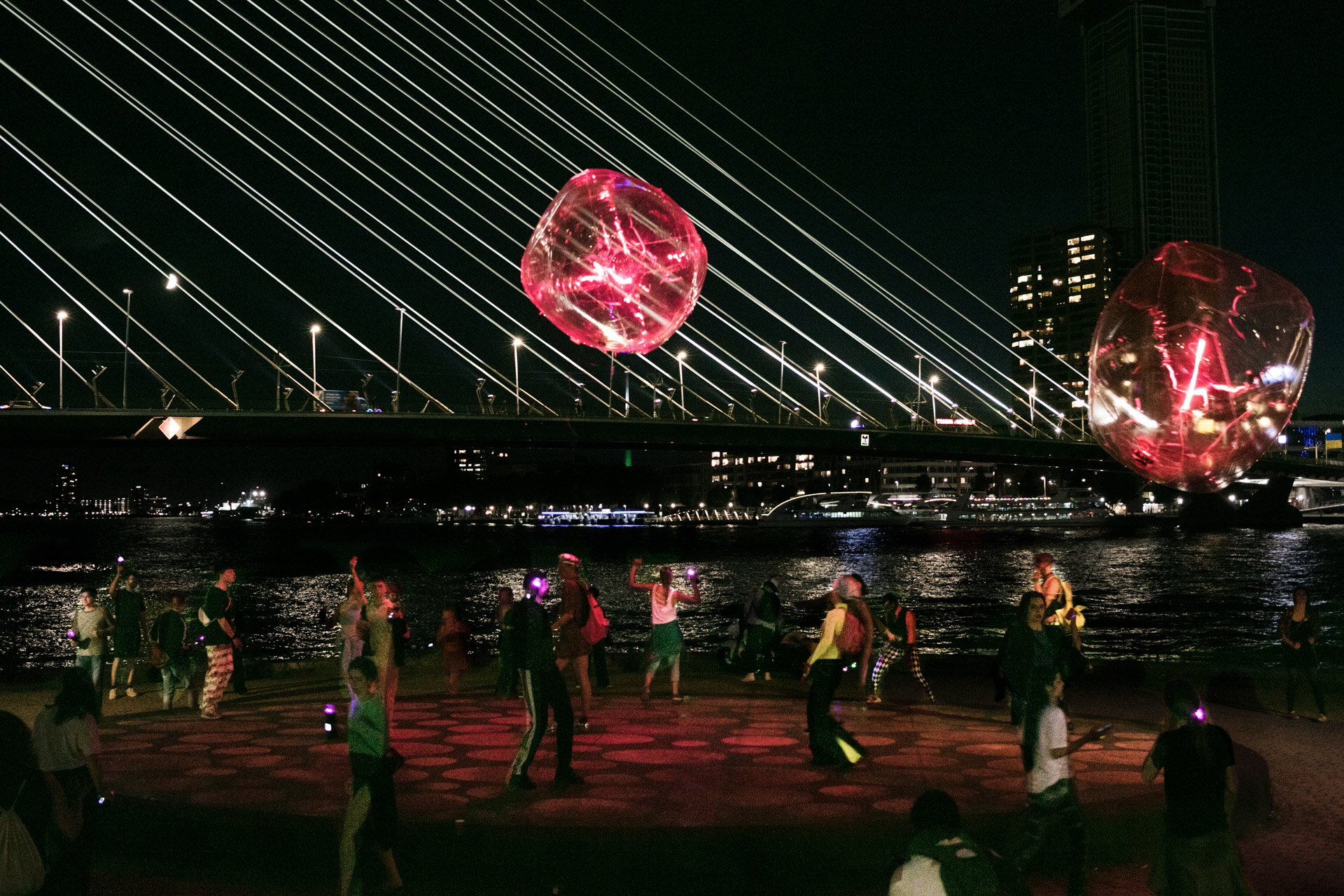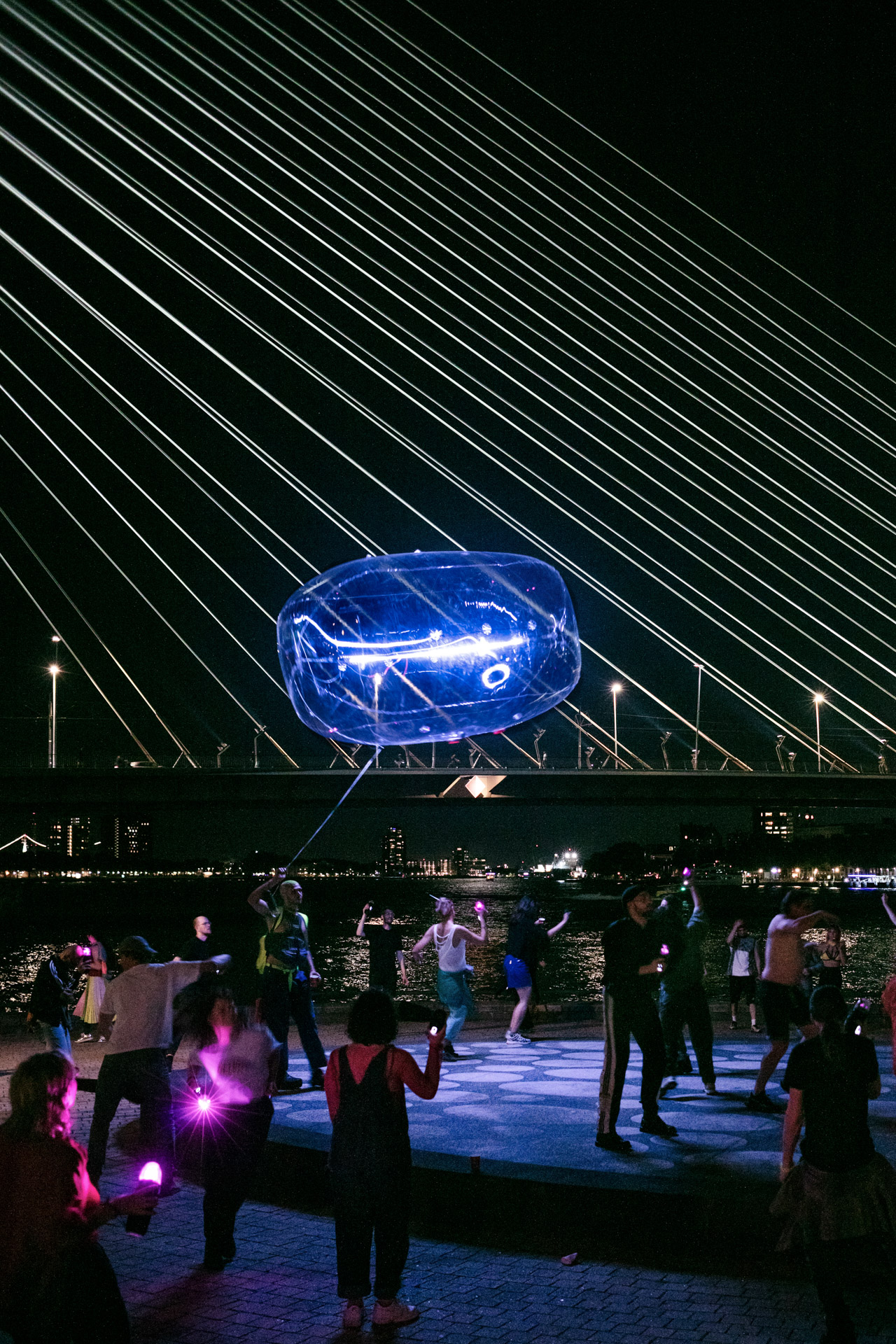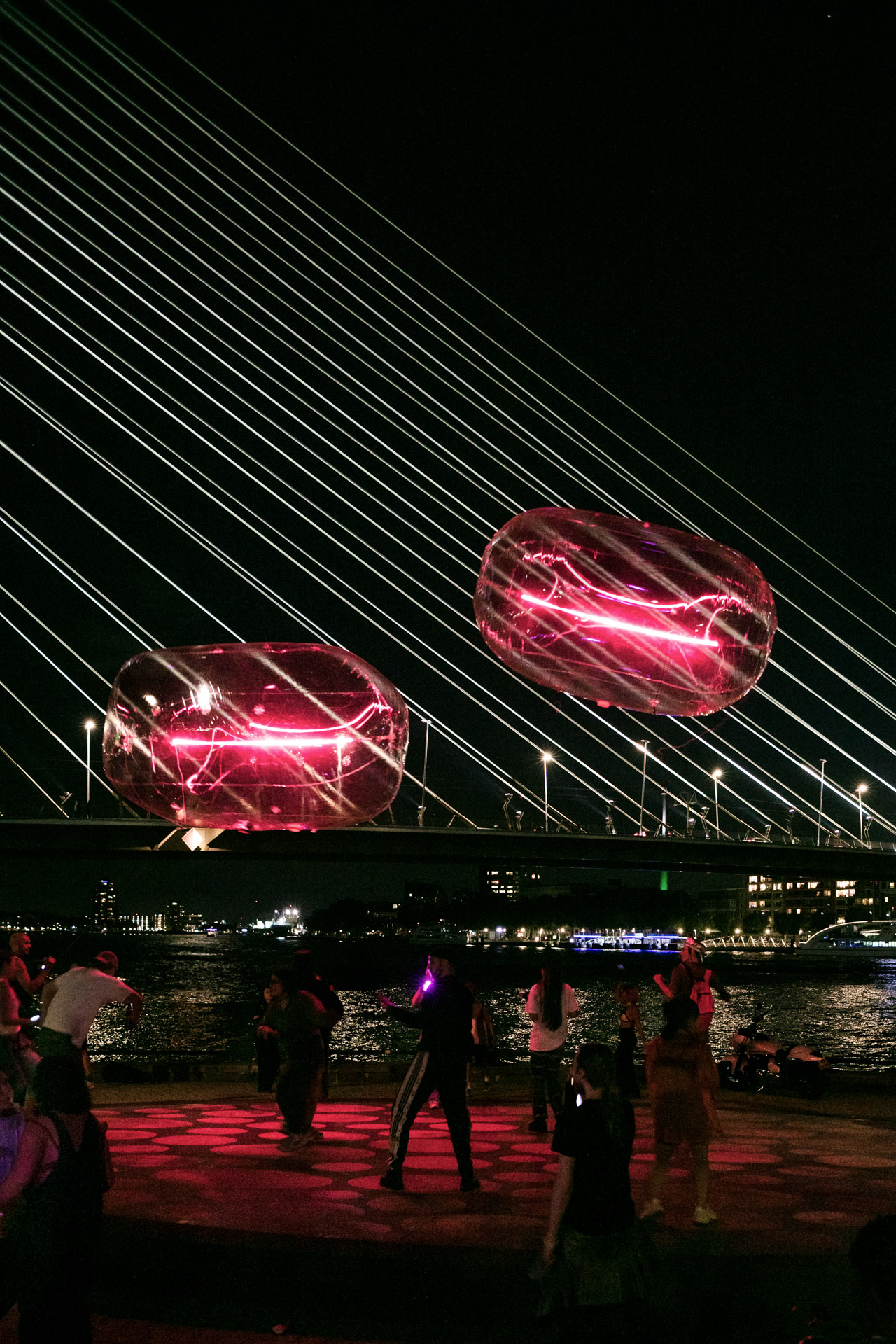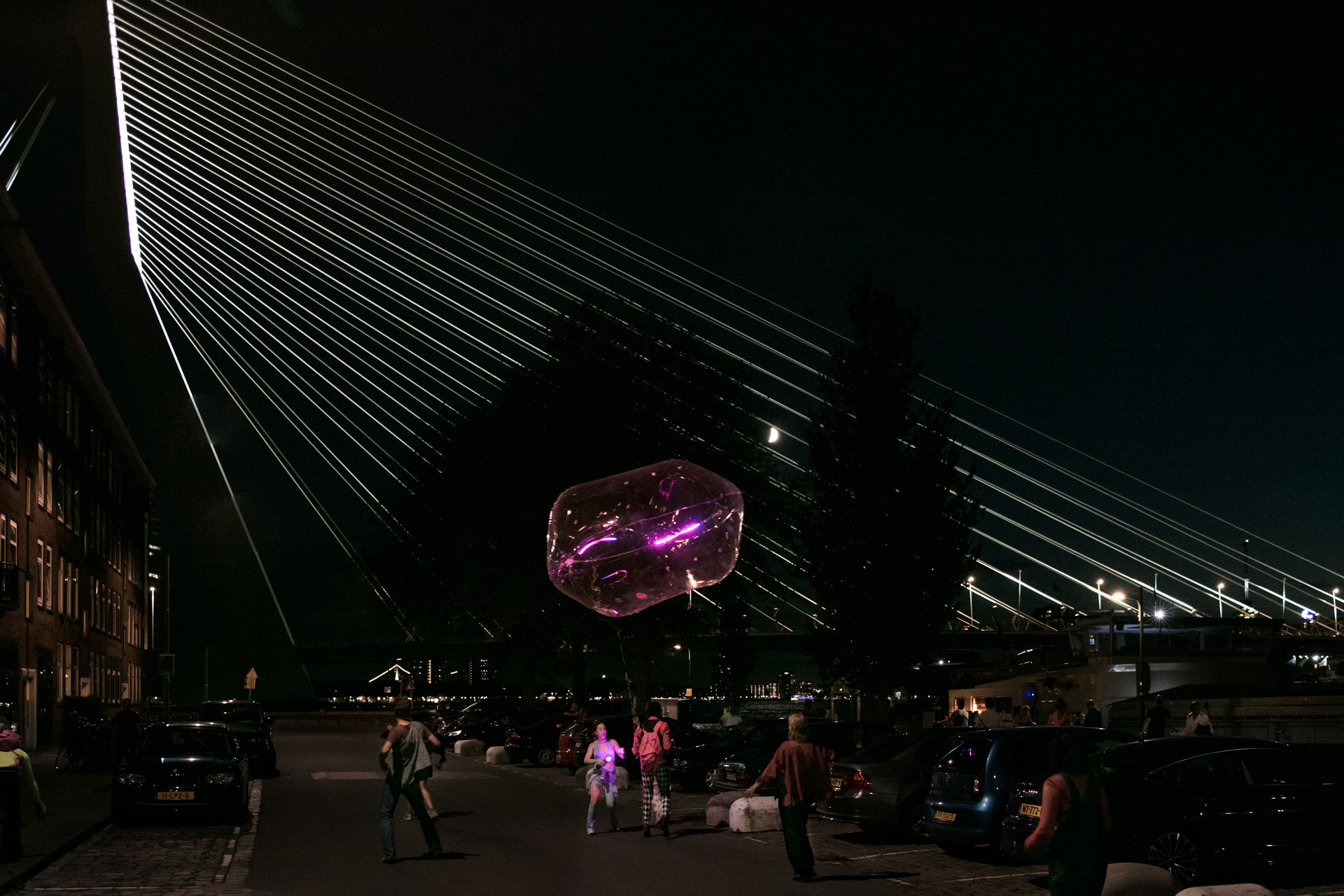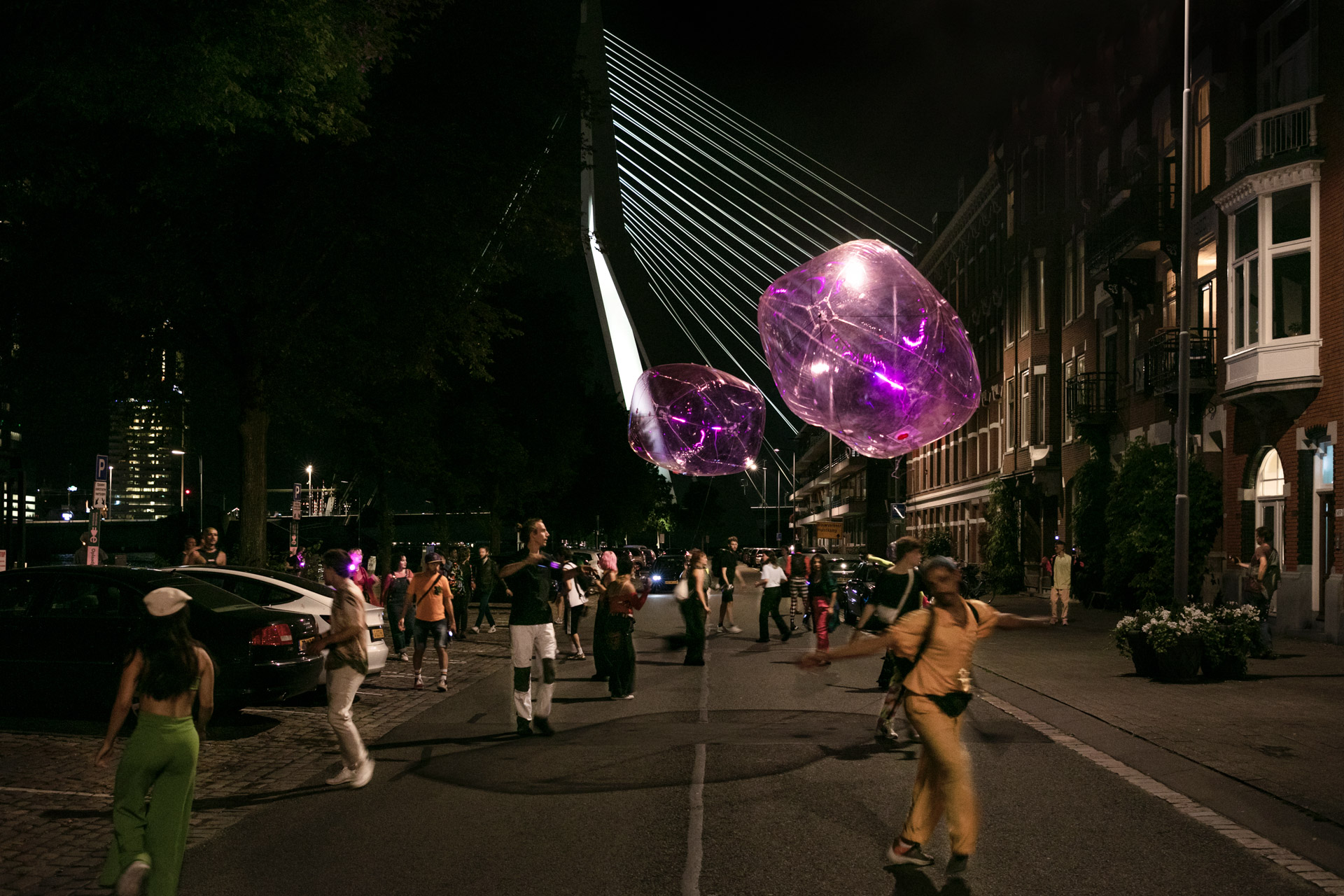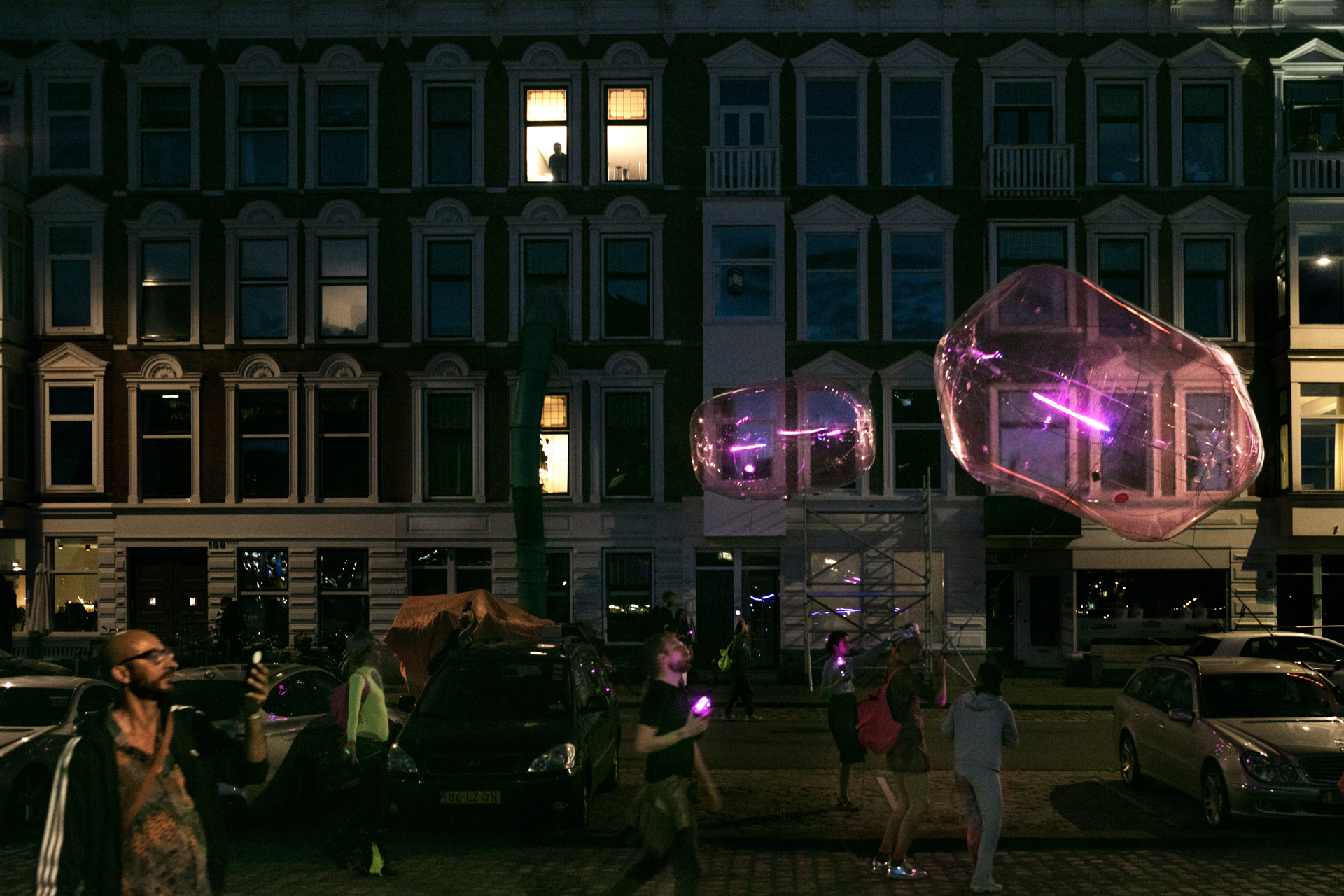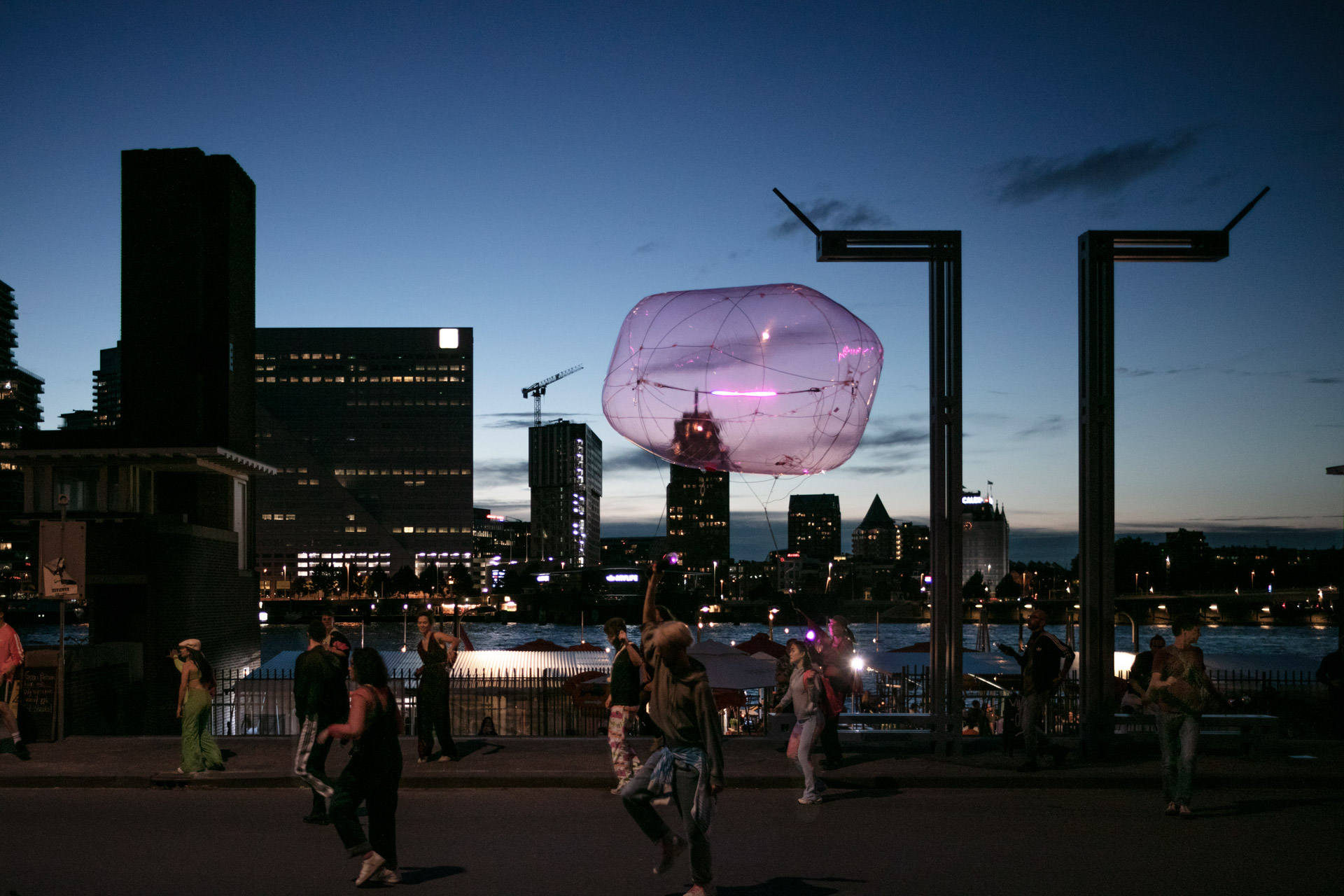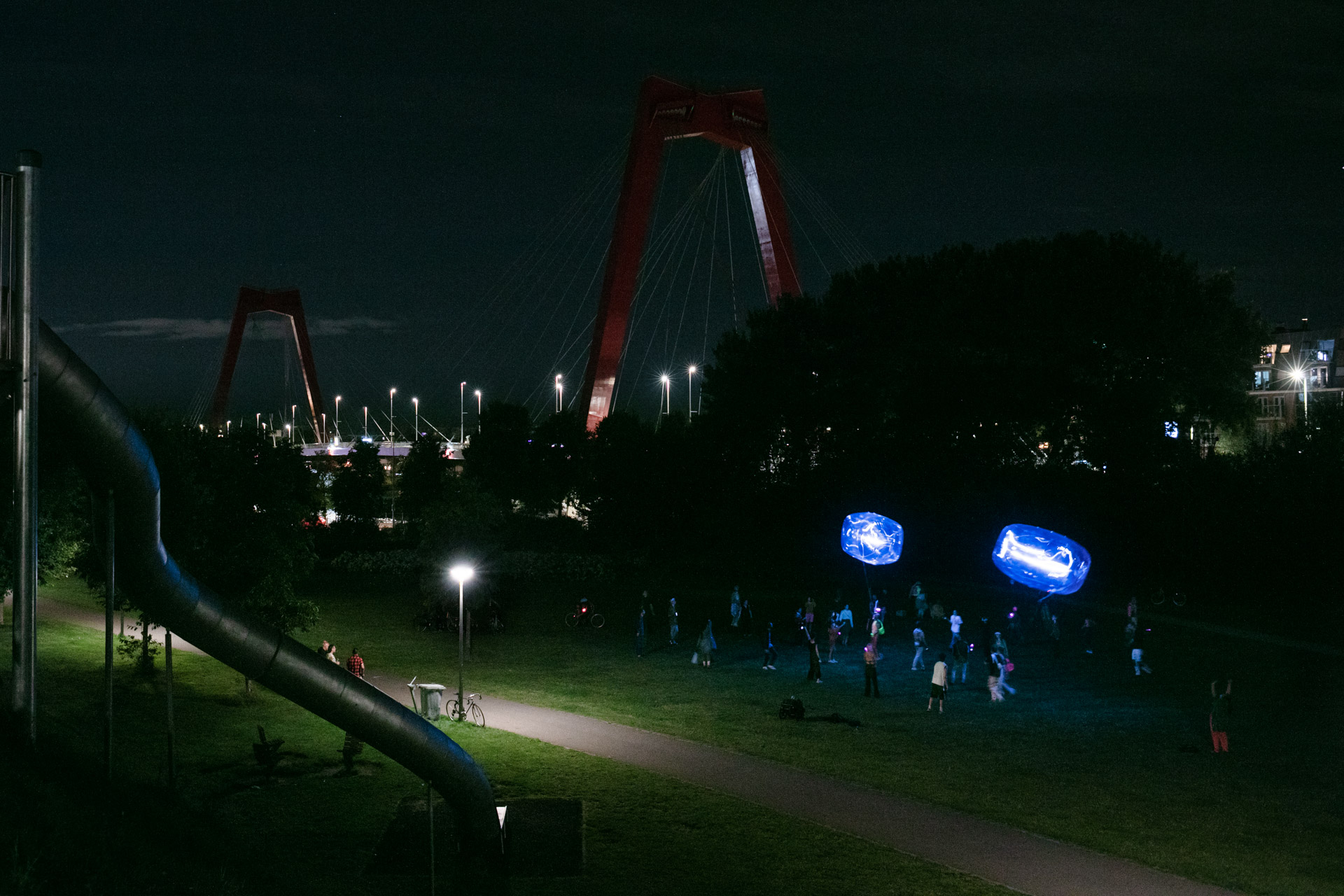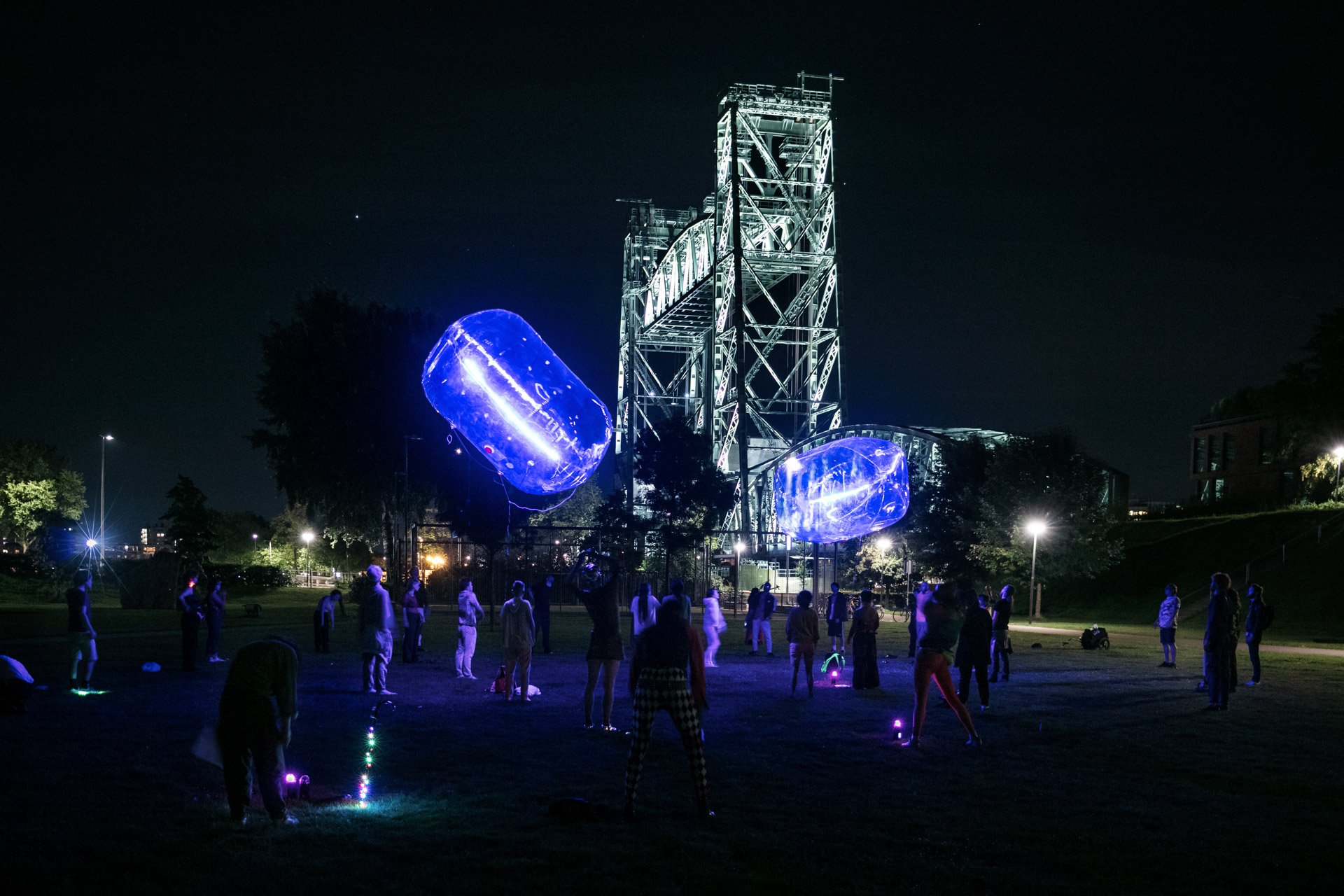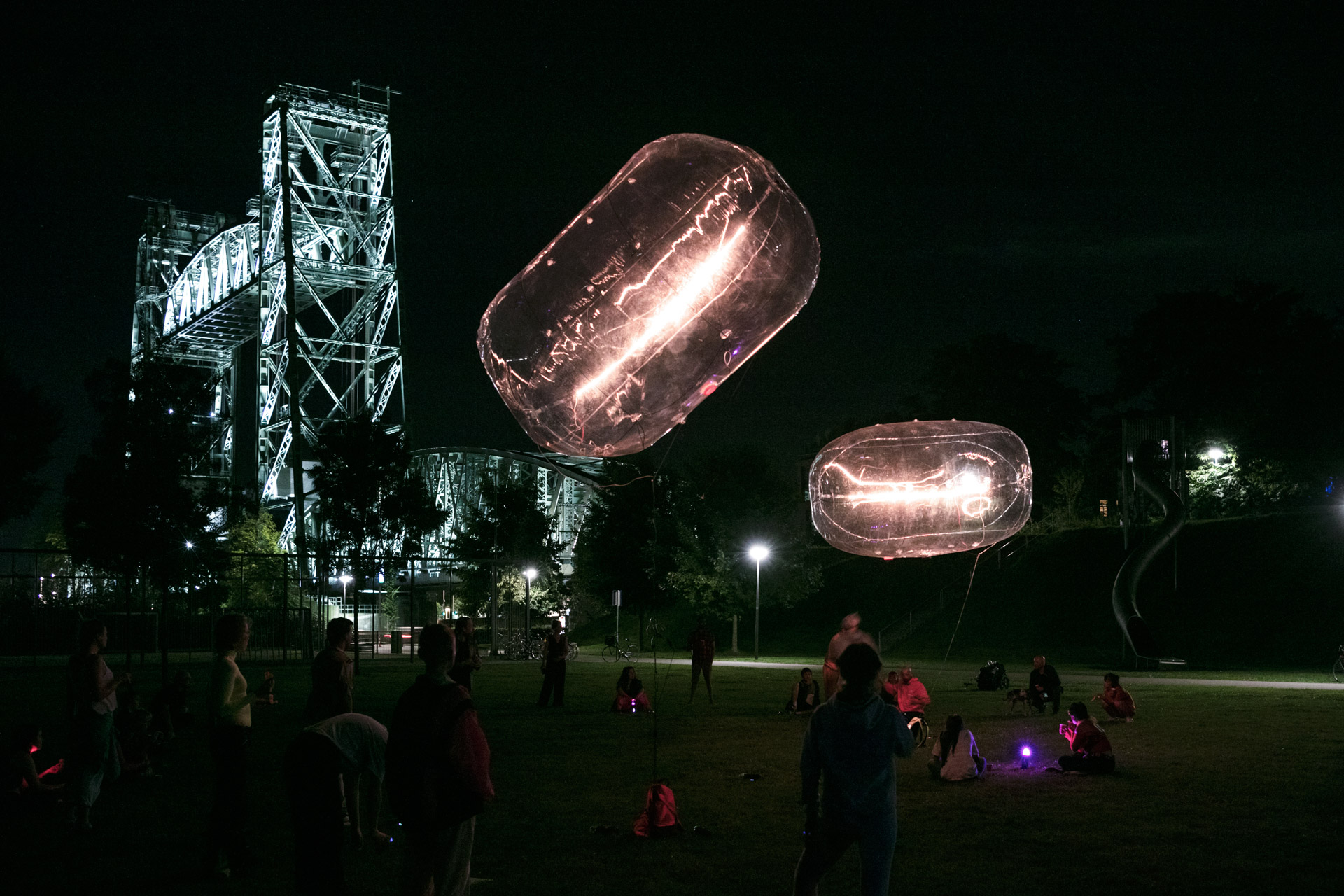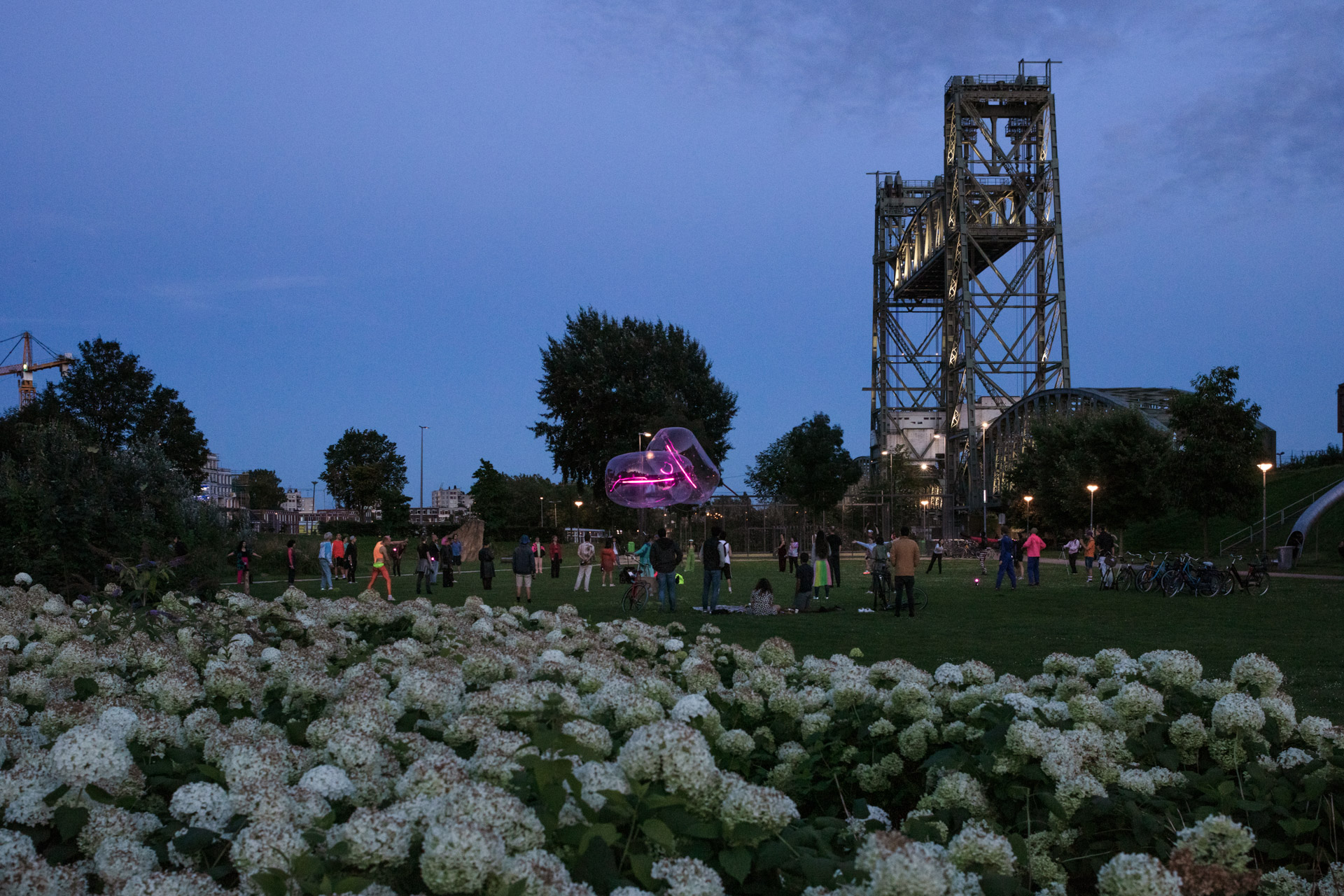 Rotterdam. Sunset. Juli 2021. We placed 30 pairs of light giving silver and golden shoes on a sheet in a grass field. A ritual of putting on shoes at sunset. When you push the button, they illuminate. New people try on the shoes. A russian guy, who passed by and is curious. After a few minutes of explaining the rules of the dancing swarm, the newly formed group moves through the city, keeping a fluid of three metres distance from each other. 
RÆV REHEARSAL was initiated by Bambi van Balen and mime choreographer Floor van Leeuwen in 2021. The project came from a desire to create a community, to ground ourselves in Rotterdam. While social life was restricted, we found a loophole in the Dutch Covid-19 regulations, such as orchestra´s can rehearse outside with no restriction on the amount of people, only to keep tone and a half metres distance. Hacking this rule for our raves, we held unauthorised dancing assemblies for sometimes more then hundred people. Through handheld bluetooth speakers, the sound of techno emerges. At some point you come into a dancing trance, only noticing the flickering lights of dancing shoes around me. People looking out of the window, while we conciously broke the silence of the pandemic. Afterwards I heard the comment: "It's like a dream that passed through my window." 
The swarm, as an emergent and scalable model for manifestation, has been described by many political theorists and collectives, starting within the anti-globalisation movement such as Multitude, War and Democracy in the Age of Empire by Negri & Hardt, We Are Everywhere: The Irresistible Rise of Global Anti-Capitalism by Notes from Nowhere or more recent Emergent Strategy: Shaping Change, Changing Worlds by adrienne maree brown. Can political movements take on swarm-like properties? In computer simulations, the swarm is described as bound by fa set of fixed rules. In a computer simulation, there is no space for freedom, every movement is predetermined. Simulations are always an approximation what is happening in real life. In contrast, our living embodied dancing swarm encourages us to become more free. To experiment and seek queerness with movement and expression of gender.
To move within a shared horizon, four principles were defined as a shared framework for everyone to interpret in their own way: simplicity, groundedness, support and joy. 
"Simplicity" as a prerequisite to let complex systems emerge. Emergence means that the whole means more than the single parts.  For example a chess playing strategy emerges after the rules of the chess game are set. What in our dancing swarm emerged is a fluidity that was hard to grasp.

"Groundedness" to stay in the present, to step on the beat. Part of our philosophy was: "We are not escaping reality, but we are performing a different logic within this reality." This meant, that no alcohol or drugs were allowed during the raeves. We found bliss and ecstacy by activating the inner raving body, by finding a new form of togetherness during the pandemic.

"Support" as a general ethic of mutuality and support. (See for example Mutual Support by Dean Spade.)

"Joy" is for philosopher Spinoza translated as "an increase in the power of acting", that is to say of thinking and imagining. Through weeks of coming together, of repetitive rituals our group starts to feel better. Joy is contagious. Joy is subversive. 
The performance theorist André Lepecki distinguishes between choreopolice and choreopolitics. Choreopolice describes the policing of behaviour. These are the rules of normative movement in public space, administrative obedience, the command of a traffic and crowd control of a police officer that resembles the command of an authoritarian choreographer. Choreopolitics is an experimental kinetic form of freedom, it "requires a redistribution and reinvention of bodies, affects, and senses through which one may learn how to move politically, how to invent, activate, seek, or experiment with a movement whose only sense (meaning and direction) is the experimental exercise of freedom." What RÆV REHEARSAL intended, was a form of choreopolitics: to step out of pre-choreographed patterns of expectation. By stepping out, we activated and broadened the affordance of public space, opening it up to new possibilities and encounters.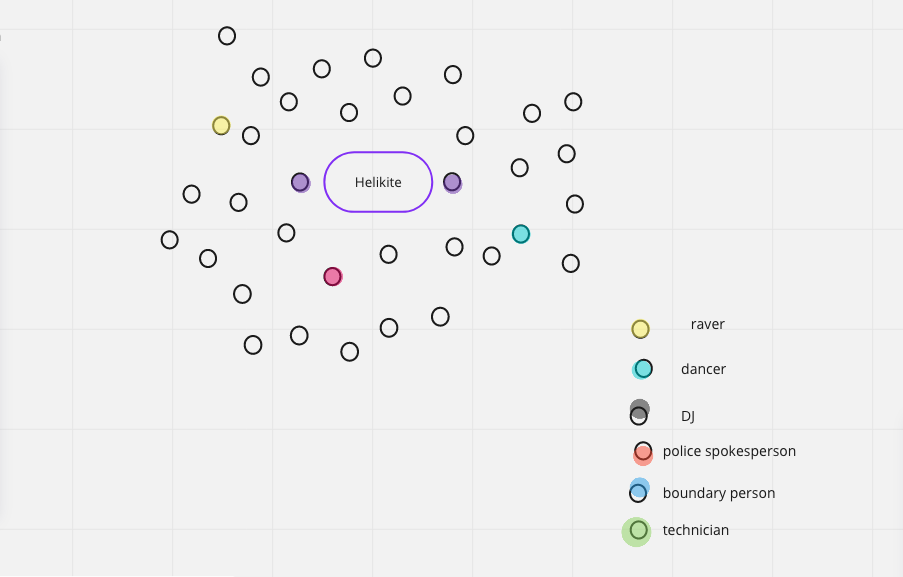 Dancing three nights per week, RÆV REHEARSAL allowed a community to form. They were one of my happiest moments during the pandemic. Where we shook out the tensions of the lockdown, that creep into your nervous system and joints. In the course of a few months, we danced in Rotterdam, Brussels and Amsterdam in the Wallen together with Papaya Kuir and Failed Architecture, commenting on the "social cleansing" of the Red Light District during the pandemic. On invitation of stichting NDSM werf, we danced during the Amsterdam Dance Event. The last RÆV REHEARSAL took place on the 19th of November coincidentally in parallel with an Anti-Covid protest. While riots were held one mile away and a demonstrator got shot in the lungs, our dancing swarm confused police helicopters alike. It was a feeling that the freedom and  regulation of public space is constantly narrowing. RÆV REHEARSAl was in this sense a form of what Tricia Hershey from the Nap Ministry calls "Reclaiming Dreamspace." It created an in between space, that fluid ecstatic moment, in which the dreaming together can happen.
*1 Antonio Negri, Michael Hardt, Multitude, War and Democracy in the Age of Empire, New York: Penguin Press, 2004.
*2 adrienne maree brown, Emergent Strategy: Shaping Change, Changing Worlds. Edinburgh: AK Press, 2017.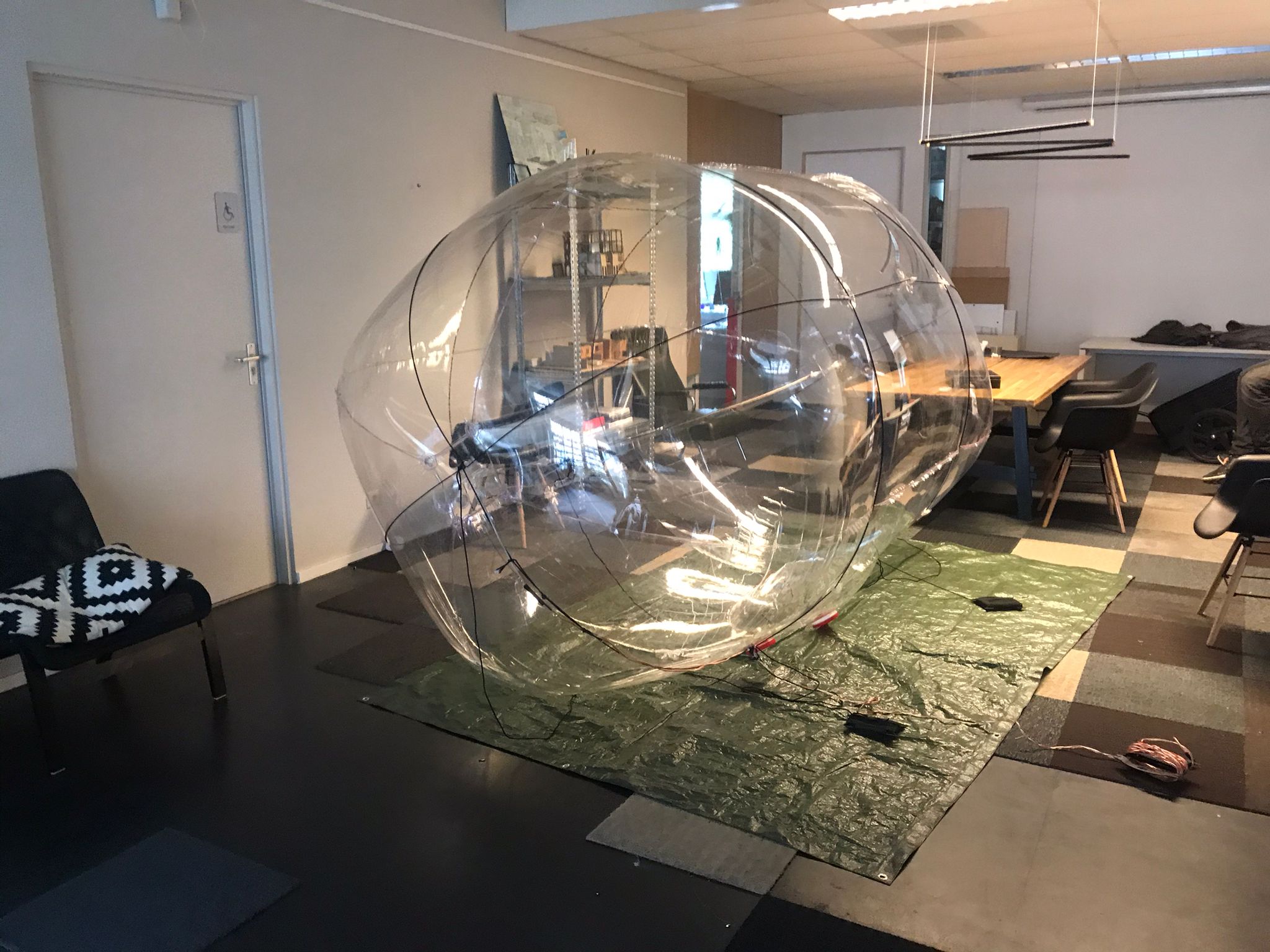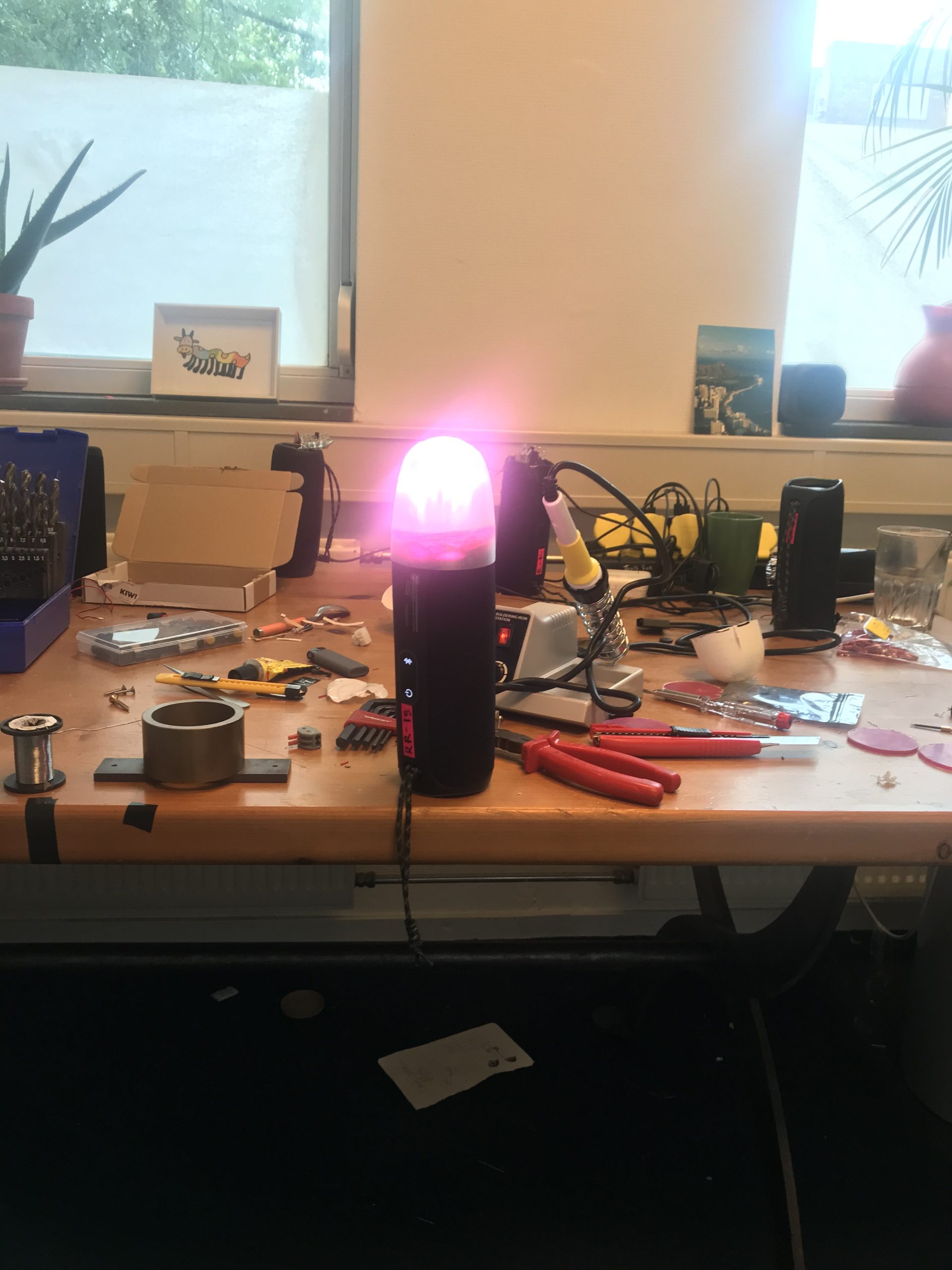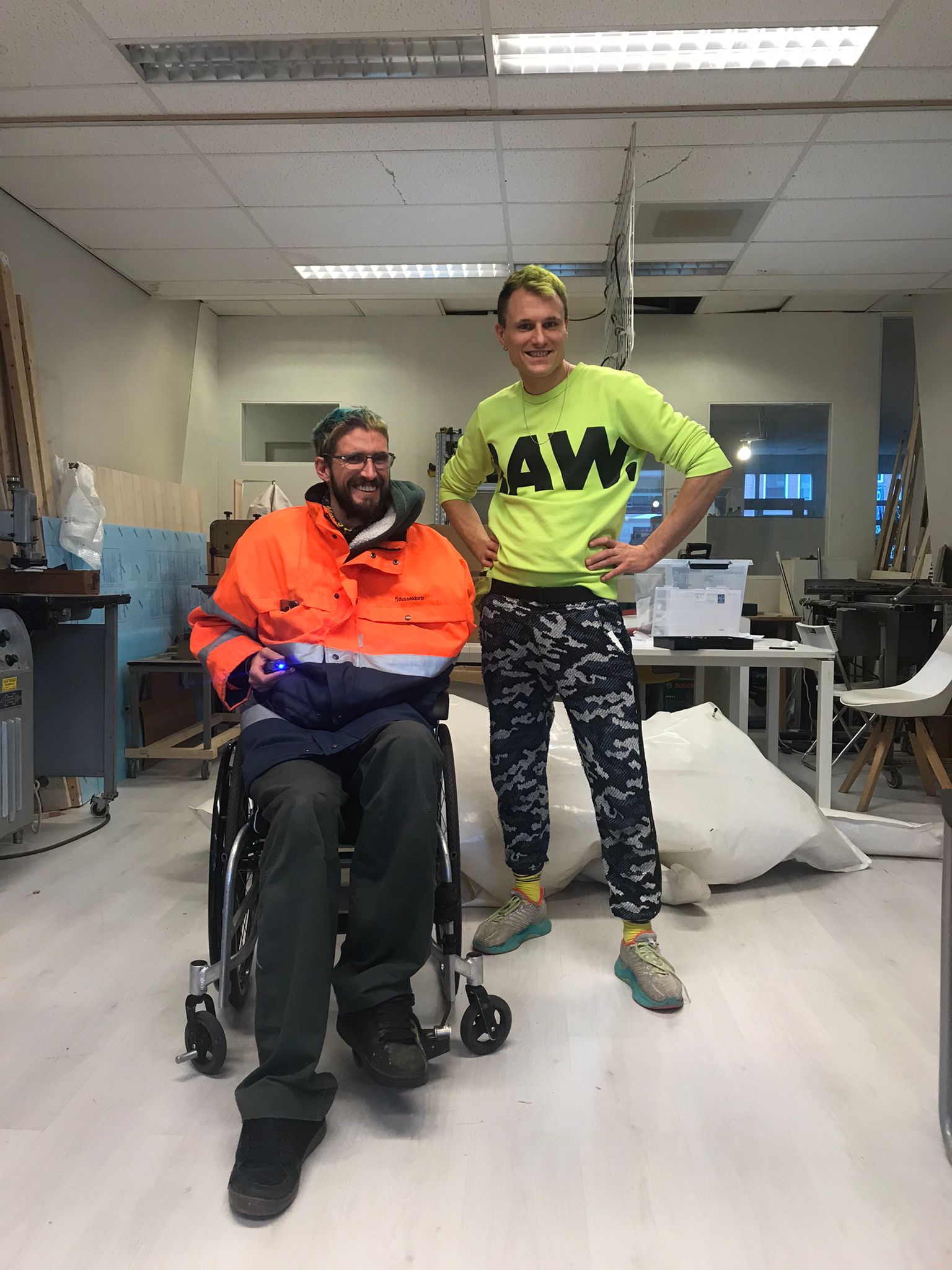 Concept, initiator & choreography:
Floor van Leeuwen
Concept, initiator & tool design:
Bambi van Balen
Social design:
Roberto Pérez Gayo
Development of raving body:
Simomo Bouj
Performed by:
Karlijn Roest, Maoyi P. Qiu, Mary Brown, Joumana Aljamal, Samüel van der Spek, Daryl Grootfaam, Egle Duobaite, Tereza Nerad, Steven Kiers, Gina Borsje, Joumana Aljamal, Hannah Koevoets, Margaret Dimitrova Terzieva, Tanit de Diesbach, Sylvie de Kubber, Stevie Kok, Loeki van der Horst, Nigel Appelboom, Quen van Wijk, Luuk Kuijper, Taha, Georgie, Melyn Chow, Matteo Biffulco, Simomo Bouj, SasaHara, Roberto Pérez Gayo, Bambi van Balen, Floor van Leeuwen
Tools for Action assistant design:
Bambi van Balen, Hermano Luz Rodriguez (assistant-design), Jasper van Loenen (light programming), Carolien Teunisse (interactive electronics), Remko Kruize (network engineering), Jeffrey Aarts (production).
PR:
SasaHara, Bambi van Balen
Photography:
Dani Hefter (The Fox Is Mine), Luca Girardini
Camera:
Dandelion Eghosa, Mohammed Lubbad, Bambi van Balen
Video edits:
Bambi van Balen,
Nigel Appelboom,
Jan Beddegenoodts
Made possible by Tools for Action Foundation
With kind support of Stichting Doen, Stimuleringsfonds, CBK Rotterdam, Gemeente Rotterdam, Jurriaanse Stichting, Productionhouse Theater Rotterdam (ACT: Art, Climate, Transition Network)